High-precision balancing machines and vibration measurement technology
from
PMB Präzisionsmaschinenbau Bobertag
Contract Balancing from micro turbines
to large gears and individual parts to large Series!
Ultra-precise balancing technology from PMB
Ultra-precise balancing technology from PMB increases the service life of your products, helps prevent damage and increases the quality of your components! All rotating components have an imbalance due to production or design. If this is too large, considerable risks arise for the components and the products in which they are installed. The life span of the products and bearings is reduced or, in the most extreme case, the component is destroyed. Especially at high speeds, vibration caused by unbalance will cause noise. In the field of dental technology, the manufacture of turbochargers and equipment fans, these noises are subject to a legally defined limit or are simply undesired by the customer. The faster their products rotate, the more important balancing becomes, because doubling the speed generates four times the centrifugal force and increases the risk of damage. Precise balancing is a must here. And a lot of potential is not used here. PMB Bobertag has set itself the task of solving this demanding task. Founded in 2008, we have since then achieved technological leadership in the field of ultra-precise balancing with our own UMS vibration measurement technology, balancing software and analysis software as well as our complete CAROBA® Balancer balancing machines. From development and production to consulting, we stand for the highest quality in balancing technology and contract balancing. Our company is certified according to DIN EN ISO 9001.  
We are your
specialist for: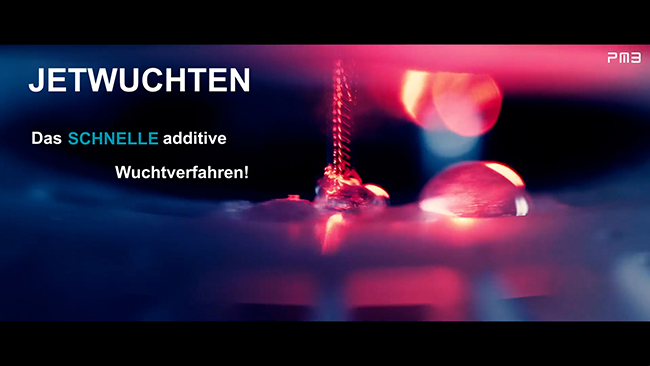 FAST, PRECISELY AND PROCESS SAFE
JETTING - OUR NEW BALANCING PROCESS
The new balancing method "JETTING" was developed by PMB Bobertag in cooperation with DELO industrial adhesives. It is based on the high-precision measurement of the unbalance, the extremely fast application of the correction mass in the form of high-tech adhesive and the subsequent light curing. The entire balancing process is performed with the CAROBA®Balancer AddMassJet, a modular balancing system from PMB. This process offers enormous advantages for the component to be balanced. The unbalance correction is contactless, force-free, dust-free and chipless. Mass correction is extremely precise and with a high cycle rate down to the milligram range.
Here you will find our news and press releases