Balancing machine CAROBA® Balancer OnDesk 500
The compact and flexible universal balancing system
The CAROBA®Balancer OnDesk 500 has been developed for all users who want to save space in the laboratory and in production and at the same time use high-precision balancing technology.
The Balancer OnDesk 500 is the worktop version of our Balancer Universal 500 and a fully-fledged balancing machine for laboratory, prototype and series balancing. The set-up variants and various holders for workpieces are compatible with the Universal 500. Due to its low weight and compact design, the OnDesk 500 balancing machine can be removed from the shelf, placed on a worktop and operated on it.
Our CAROBA® UMS COMPACT unbalance measuring system is removable integrated into the balancing stand and can be connected to a standard PC or laptop. You use the system comfortably with keyboard, mouse and large monitor. If required, you can remove the UMS COMPACT unbalance measuring system and you have a mobile system for on-site measurements, e.g. for use in service.
The advantages of the Balancer OnDesk 500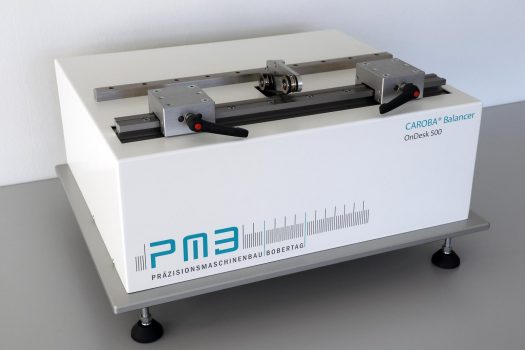 The basic system of the balancing machine CAROBA® Balancer OnDesk 500
The basic version of the OnDesk 500 is complete in its compact housing on a base plate with 4 adjustable feet up to the interface to your workpieces.
A powerful round belt drive including drive arm is integrated for driving your workpieces (on request including positioning of the workpiece, also known as "turning in"). For fixing the optional set-up variants, there are 2 movable and removable clamping blocks on the freely mounted oscillating rail. A mounting strip is available behind the oscillating rail to accommodate accessories (triggers, stops, etc.).
Bearing blocks and belt drive
In this setup variant, roller blocks or plain bearing blocks are mounted on the clamping elements of the system rail. The drive is realized with round belts, on request incl. positioning of the workpieces for the mass correction. The adaptation to different workpieces can be carried out quickly - the experience of PMB contract balancing has been integrated into the development of this system.
Use it to balance components without their own bearings and drive, e.g. shafts, electric motor rotors, turbo rotors, etc.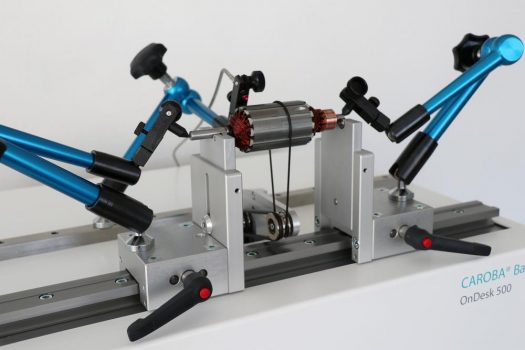 Balancing platform for assemblies
Instead of the bearing blocks, you can also mount your runnable assemblies or your own mounting fixtures directly. If your workpiece has its own bearings and drive, e.g. spindles, electric motors, small blowers, fans, etc., you can set these up in just a few minutes.
The drive control of the balancing stand takes over the control of your own drive unit. This is done via the 0-10 V DC setpoint output. Other drive types, e.g. an air drive, can also be operated.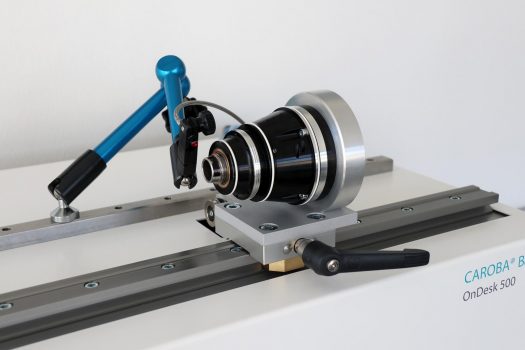 PMB air bearing with air drive
If workpieces are to reach very high speeds in the later operation, they must be balanced particularly precisely. A very good solution is balancing on our PMB air bearings and air bearing mandrels. With this technology, residual imbalances of less than 0.001 gmm are achieved. The air bearing works contactless and therefore extremely gentle for the workpiece to be balanced. This procedure is very well suited for balancing industrial series, as the achieved balancing qualities are outstandingly reproducible.
Balance e.g. turbo rotors, compressor wheels and all workpieces that have a good and smooth shaft surface or borehole. We would be pleased to advise you on this fascinating technology for balancing in air bearings.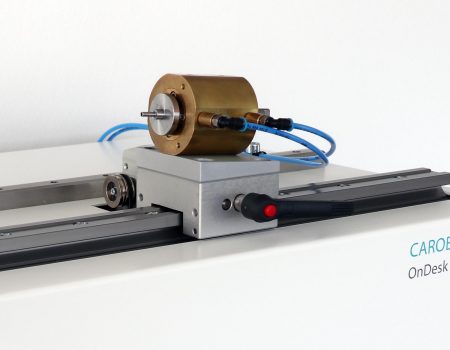 Wellendurchmesser auf Standardlagerböcken
min / max
mm
1-80
Auflagerflächen Abstand auf Standardlagerböcken
min / max
mm
30-500
Objektdurchmesser
max
mm
300
Objektgewicht
min
Gramm
10
max
Kg
10
Auf verstärkter Ausführung
max
Kg
35
Kleinste erreichbare Restunwucht (Abhängig von Werkstück, Aufnahme und Messsystem)
Auf Rollen/Prismen der Standardlagerböcke
gmm
<0,03
Auf PMB-Luftlagerung
gmm
<0,001
Allgemein
Gewicht OnDesk 500
Kg
35
Netzanschluss
V/Ph
230V/AC
Absicherung
Ampere
8AT
Antriebsart
Bandantrieb
Umschlingung mit Rundriemenschnur
Antriebsleistung
Watt
117
Auswuchtdrehzahl bei
Bandantrieb
UPM
180 - 9.000
Luftantrieb / Abhängig von Objekt und Lagerung über
UPM
12.000
Eigenantrieb / Bei Einsatz des Messsystems "COMPACT" max.
UPM
96.000
Bei Einsatz des Messsystems "PRO oder PRO-i" max
UPM
800.000
Passende Unwuchtmesssysteme
CAROBA® UMS COMPACT: An der Rückseite des OnDesk 500 entnehmbar integriert
CAROBA® UMS PRO oder PRO-i: 19" Systeme, frei durch den Anwender platzierbar
Optionen
Rollenlagerböcke, Gleitlagerprismen, Luftlager und Luftlagerdorne, kundenspezifische Aufnahmen, Niederhalter für kopflastige Werkstücke, automatisches Eindrehen zur Positionierung auf die Korrekturposition.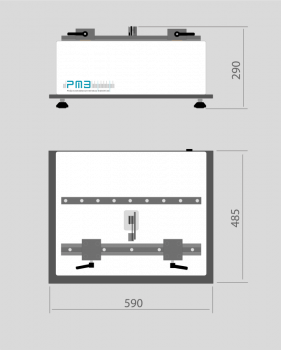 Caroba Balancer OnDesk 500
If you have any questions about our Balancer OnDesk 500 balancing system or would like to request a quote, please send us an e-mail or use our contact form. We will contact you as soon as possible.