Balancing of turbocharger turbine rotors
Precise balancing of turbine rotors for high speeds
The turbine rotor drives the compressor wheel and, as the heaviest rotating component of a turbo / turbine, it is one of the most important components of e.g. exhaust gas turbochargers. Whether milled or cast: Even with strict geometric manufacturing tolerances of e.g. ±2µm, imbalances occur which are particularly noticeable due to the high speeds. This is because the effect of unbalance increases quadratically with speed, and modern small turbochargers sometimes turn at over 300,000 rpm.
Since the rotor is usually no longer accessible later during operational balancing (OB) of the core assembly, it must be balanced as an individual part as best as possible. A turbo with unbalance in the turbine cannot be balanced on the compressor alone - optimum balancing of the rotor (turbine with shaft) is therefore particularly important for the service life and noise emission of the turbo.
With its balancing expertise, PMB is involved in the development of new prototypes. We are experts in everything from prototype balancing to the setting of exact unbalance configurations for limit samples to series balancing of rotors. Several manufacturers of turbochargers use our balancing machines for turbine rotors in QA, development and series production.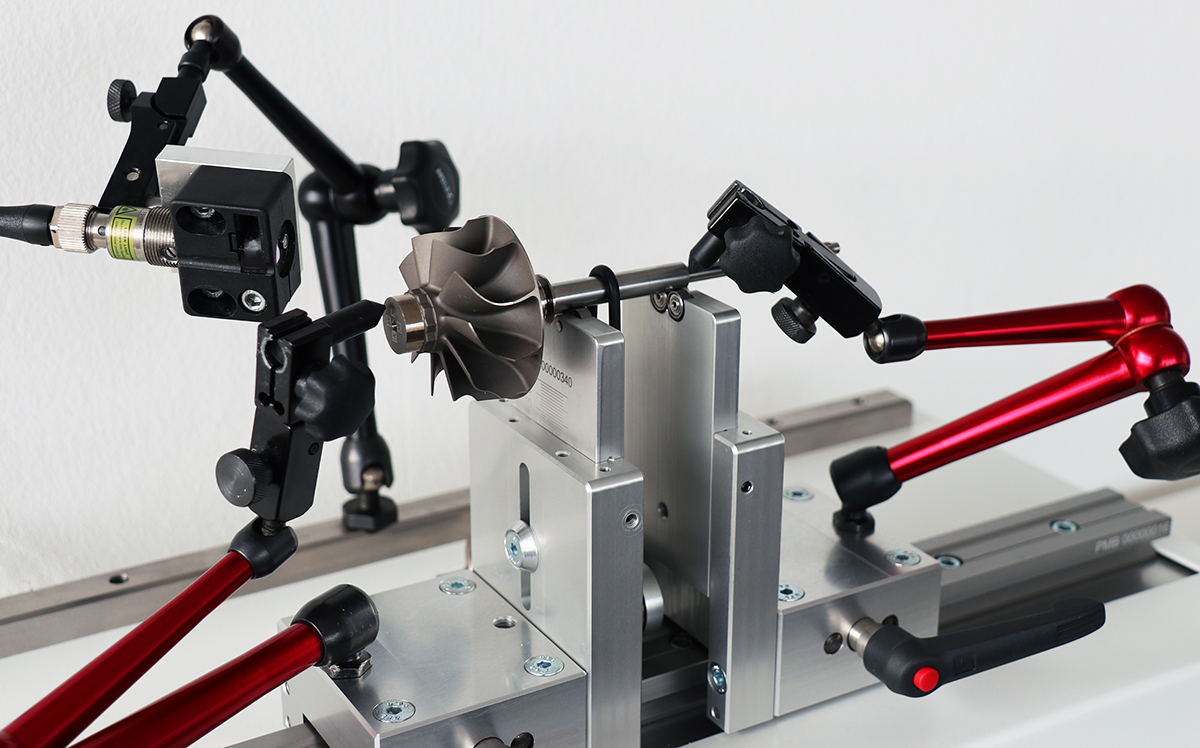 PMB Balancing machines for turbine rotors
In general, our universal balancing machines are ideally suited for balancing turbine rotors due to their modular design and high precision. You benefit from sophisticated systems that can react flexibly to changing workpieces:
CAROBA® Balancer OnDesk 500: Compact and flexible universal balancing machine in table-top design, manual and semi-automatic balancing
CAROBA® Balancer Universal 500: Universal balancing machine, manual and semi-automatic balancing
To ensure that the system is precisely matched to your process requirements, we would be pleased to discuss fully automated balancing machines for rotor balancing with you. If you have already solved the mass correction internally, we would be pleased to equip your own machines with e.g. balancing cores.
The accuracy of the unbalance measurement is mainly determined by the bearing supports, also for turbo rotors - the pure unbalance measurement technology of PMB is much more accurate. Here we can meet your requirements in 3 variants from our modular system:
Air bearings for highest precision:
Our own air bearings support the shaft of the turbo rotor without any contact and allow the best possible balancing due to almost ideal bearing behaviour. The measurement of rotors in PMB air bearings provides unmatched precise results. An air bearing is manufactured for exactly one shaft diameter - this type of bearing is therefore particularly suitable when several identical rotors need to be balanced with high precision. We use regulated compressed air nozzles for actuation.
Slide bearing prisms for easy application:
For small and light turbine rotors, our slide bearing prisms are a quick and easy solution. They are also cost-effective for frequently changing balancing tasks (conversion to other rotors). In this case the belt drive is used for actuation.
Roller bearing:
Roller bearings also provide very good results for turbine rotors and are particularly suitable for larger and heavier turbine rotors that would wear out slide bearing prisms.
Our clear recommendation: Talk to us about your task. We will recommend a suitable solution, which you are welcome to experience in practice with our contract balancing service.
Due to the high temperature load on the turbine, the correction is usually desired as a subtractive correction. Grinding and milling have become established here. Depending on the application (laboratory, development, series), the removal is carried out by hand, in manual or automated removal stations.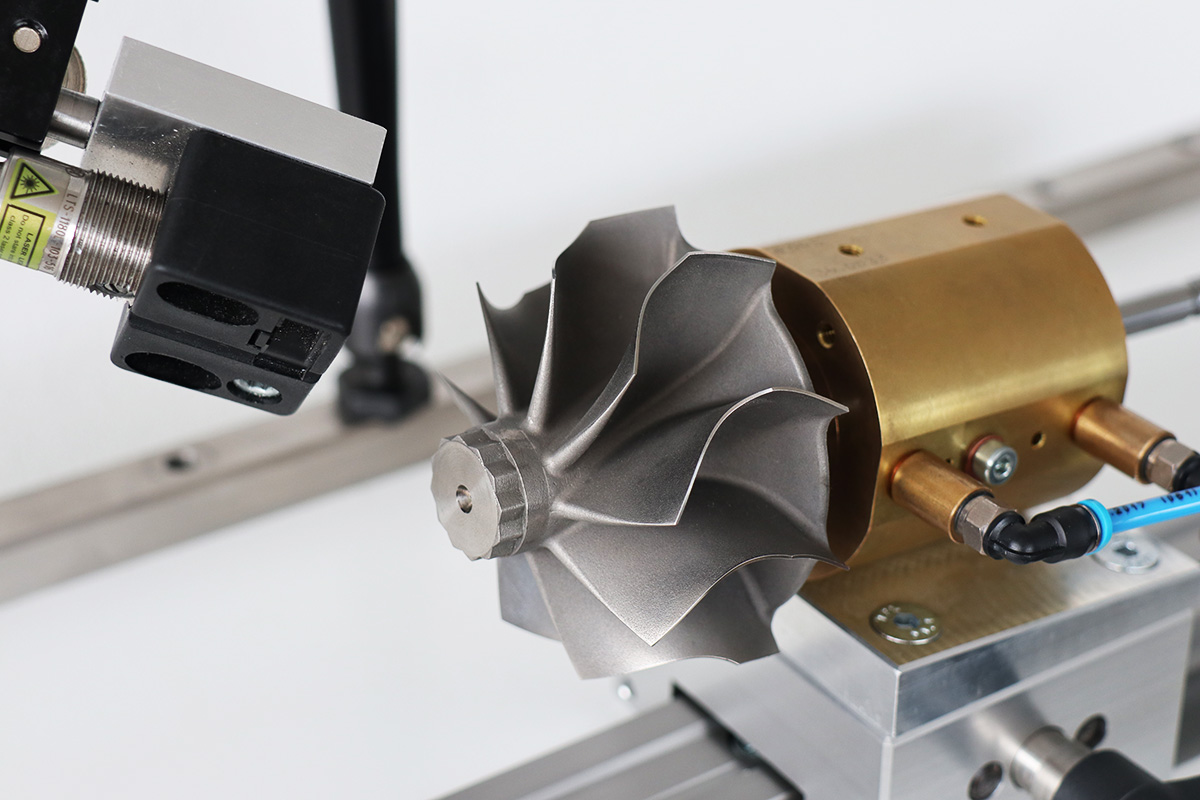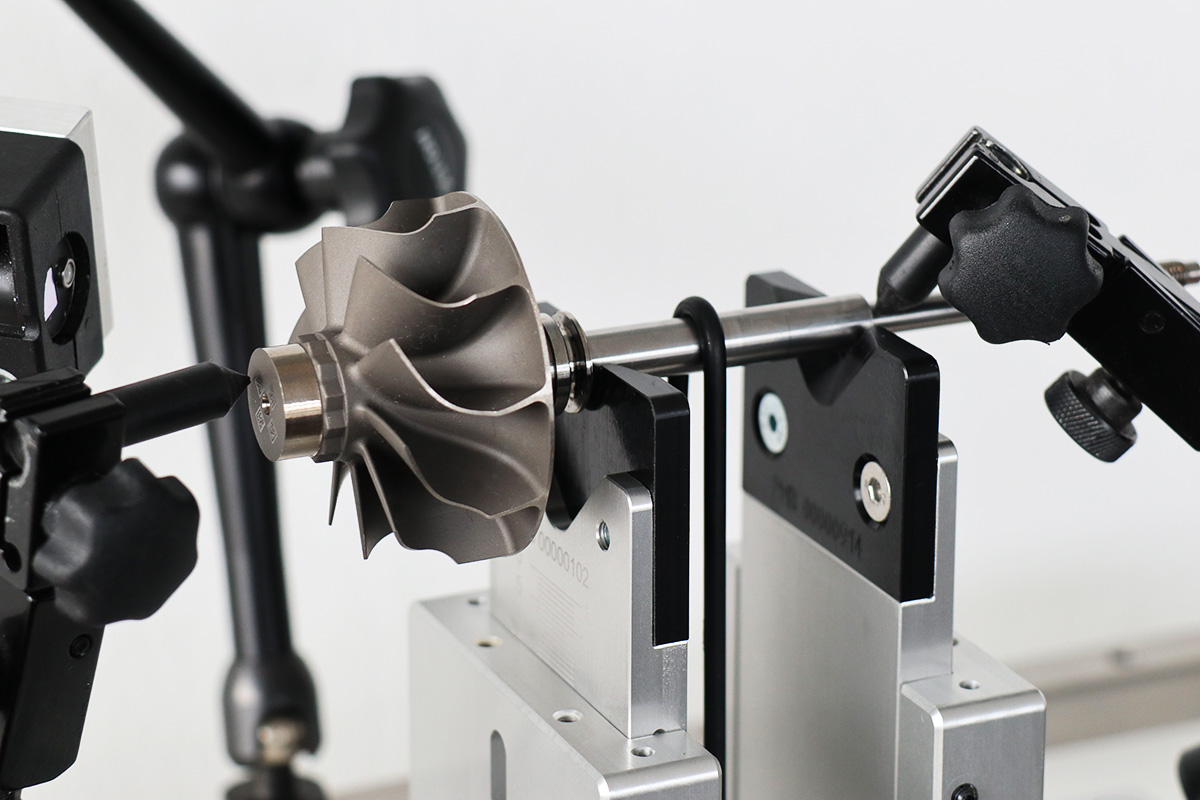 Balancing technology according to application
If you have your own products that you would like to balance or questions about balancing technology, please send us an e-mail or use our contact form. We will get in touch with you as soon as possible.