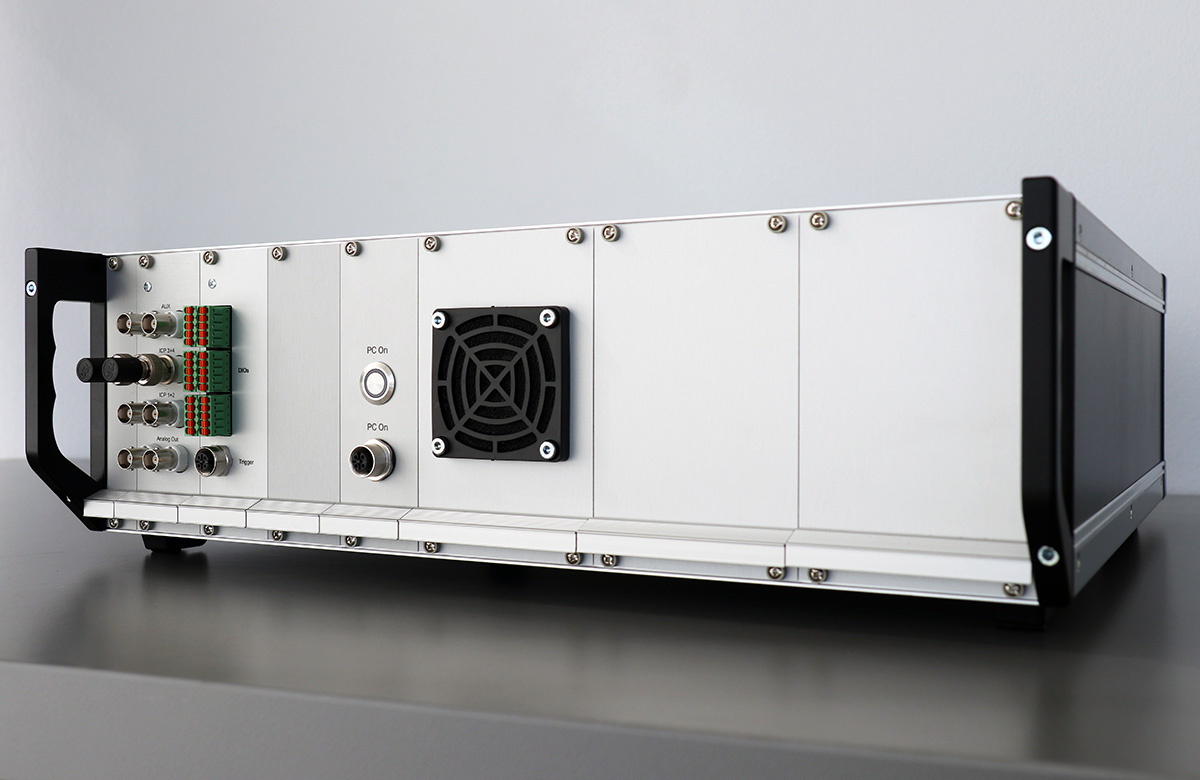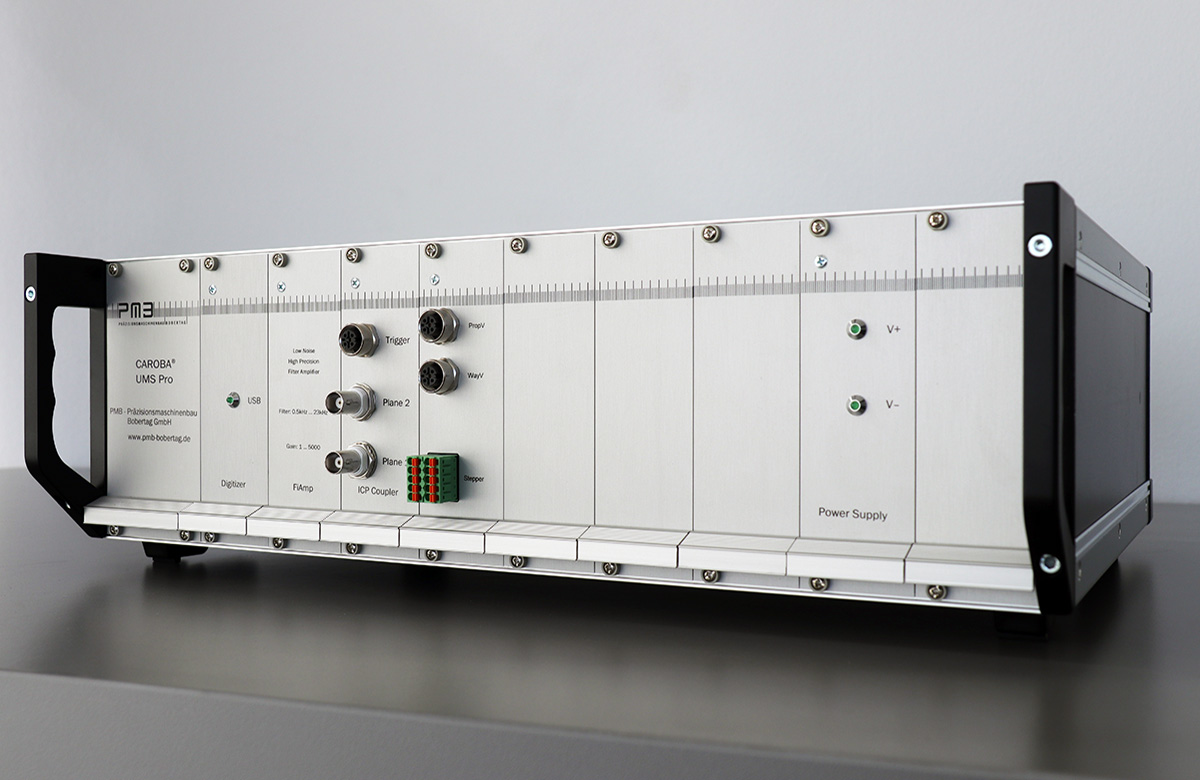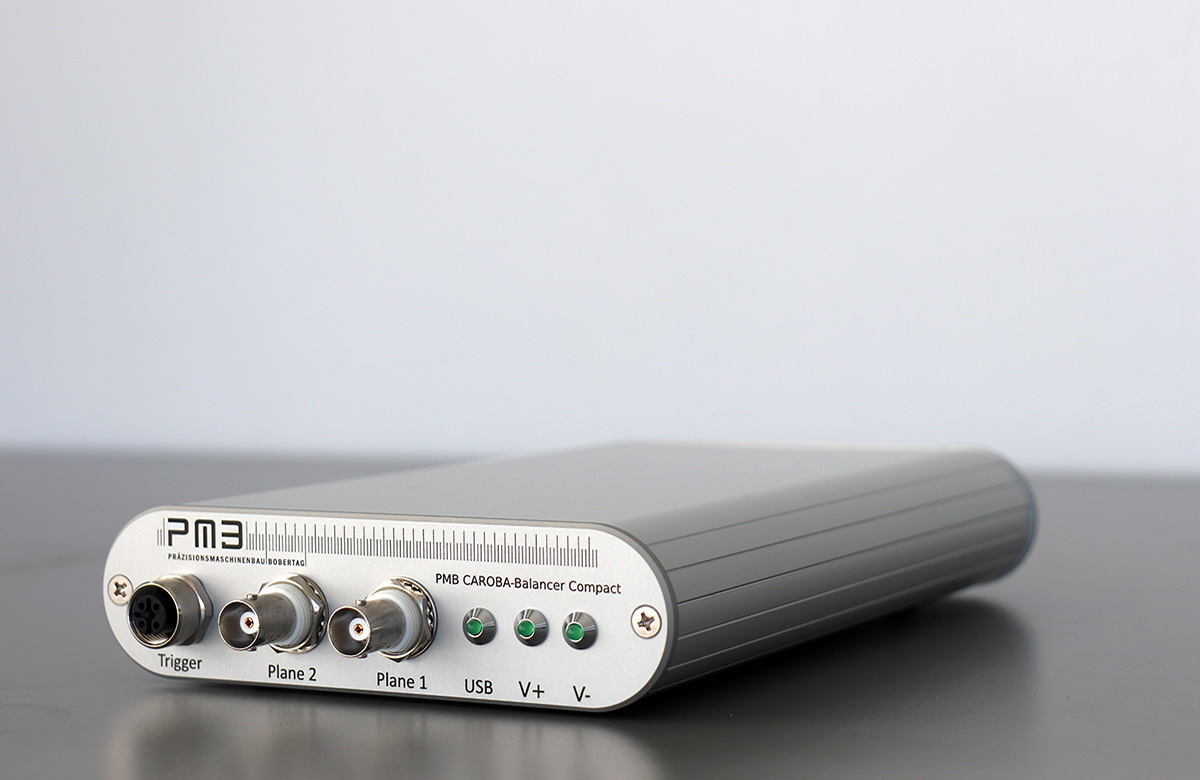 Precise measuring technology for perfect balancing
To measure the unbalance, the workpieces, your products, are set in rotation so that the unbalance generates circulating forces and thus vibrations. The acceleration sensors pick up these signals and our measuring systems filter and amplify these analogue signals. After digitisation, the signals are available to our balancing software, which uses them to calculate exact balancing instructions and vibration analyses and displays them to you. Our unbalance measuring systems CAROBA® UMS were developed to enable an exceptionally precise processing of these signals. We are also unbeaten in the accuracy of the unbalance determination due to high-quality filters, amplifiers and digitisation. Another reason for our edge: in-house developed measuring systems, balancing software and complete plants are perfectly matched to each other. With three different versions of the unbalance measuring systems CAROBA® UMS, we always have the economically and technically suitable option ready for you, depending on the application and general conditions. Our supplied balancing software for the PC is compatible with all measuring systems of the UMS series and gives you an important advantage: You operate the system comfortably with mouse, keyboard and a large monitor.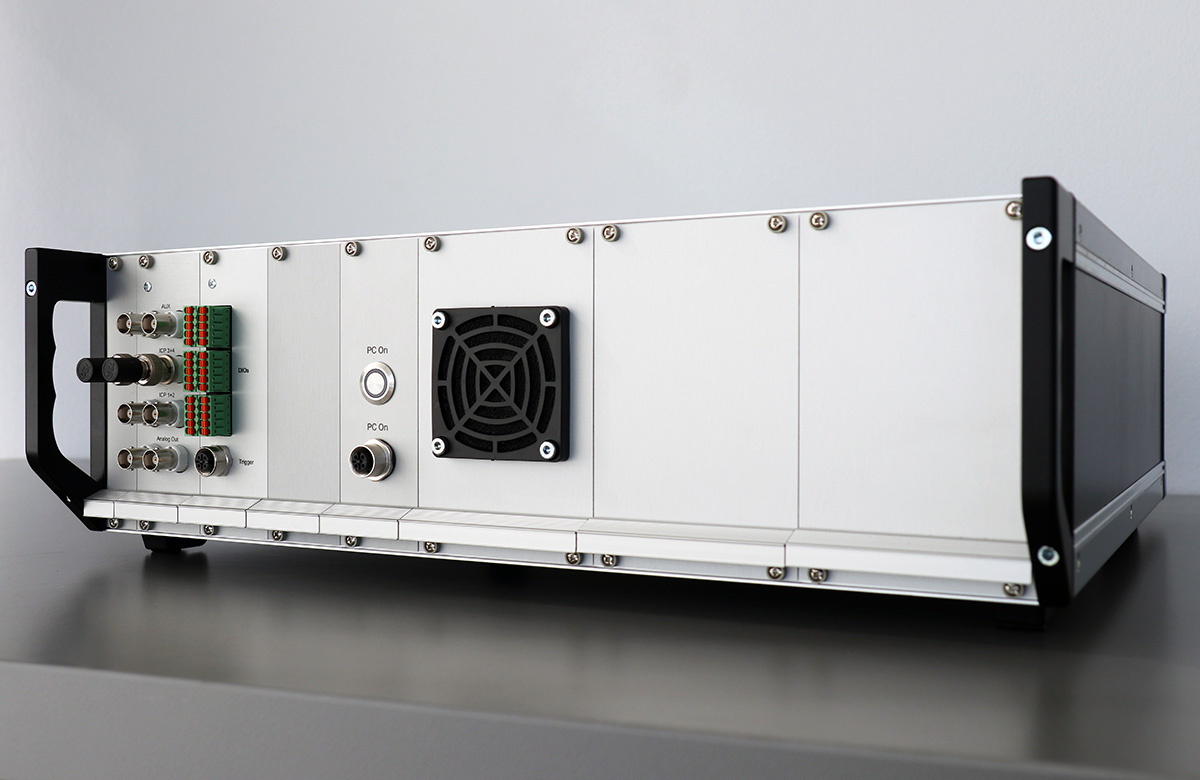 Our UMS PRO-i with integrated industrial PC is a self-sufficient system that provides maximum operational reliability and full compatibility with our CAROBA® SOFT balancing software. The PRO-i represents the peak of performance of our UMS series and with its countless interfaces is suitable for operation in automated industrial plants. These interfaces, e.g. to drive systems and positioning solutions, enable perfect integration into our balancing machines and variable instrumentation of your own systems. With the UMS PRO-i you achieve balancing qualities of G = 0.05 mm/s and better at balancing speeds of up to 1,200,000 rpm.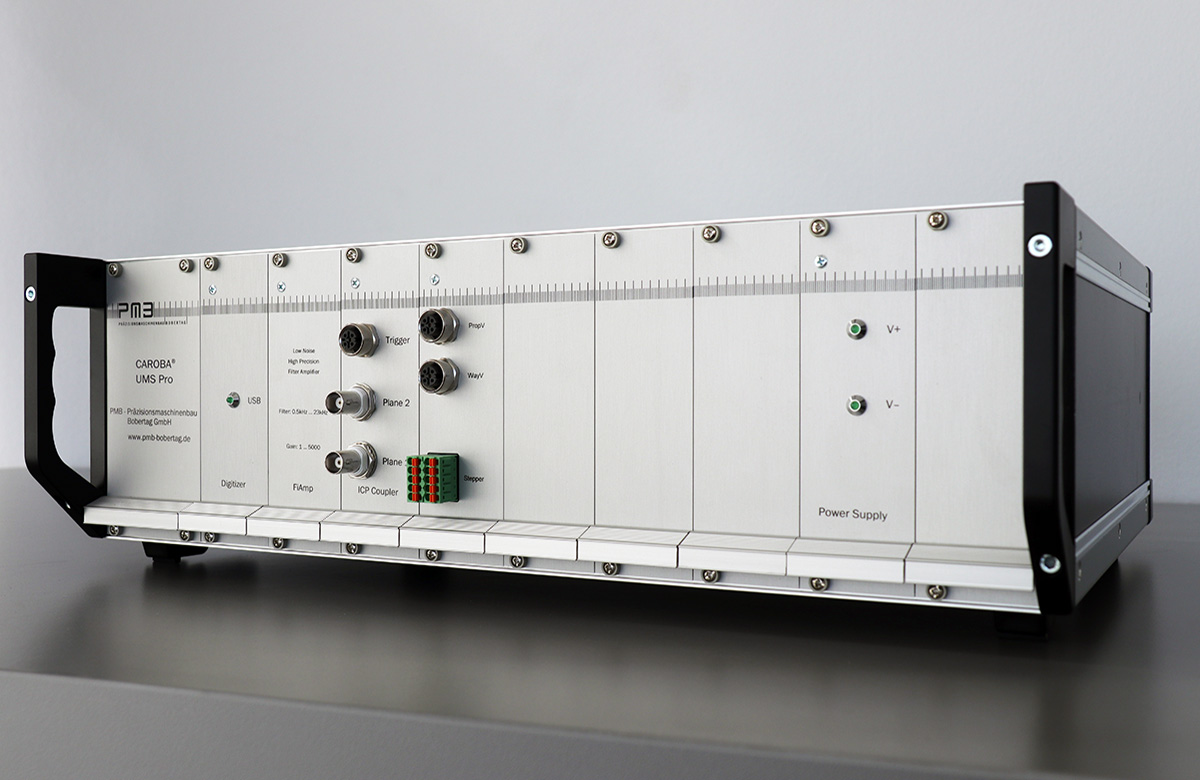 The UMS PRO can be conveniently connected and operated via a USB cable with any standard PC or laptop. With its modular design and flexibility, the "PRO" version is particularly suitable for use in manual balancing machines, as well as for integration in existing function test benches with an existing PC. It is our most widely used unbalance measuring system in development departments and in prototype manufacturing. An upgrade with our drive control and positioning unit also makes this system the core of automated balancing machines. With the UMS PRO you achieve balancing qualities of G = 0.05 mm/s and better at balancing speeds of up to 800,000 rpm.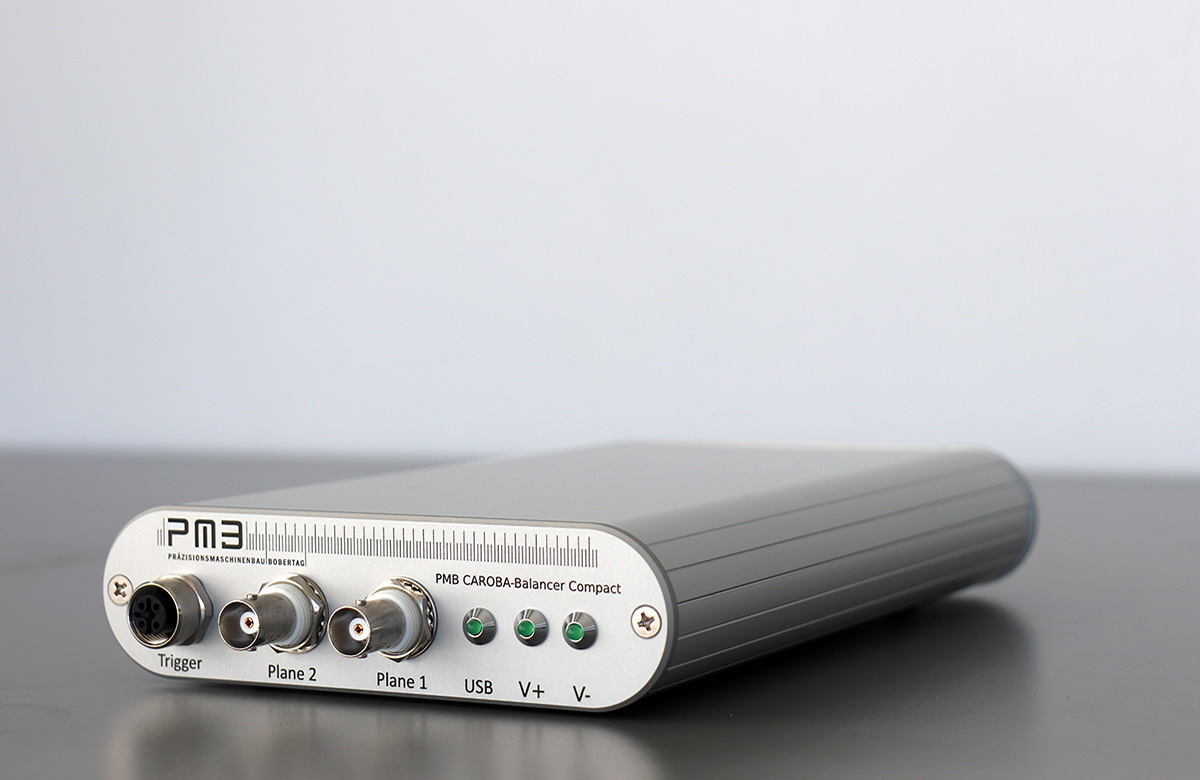 Economical, compact, mobile
The smallest UMS is our most cost-effective unbalance measuring system. It offers you the same high precision as its big brothers, bundled in a small compact housing. It is ideal for use in the laboratory, in rotor development, in manual balancing systems and especially in mobile applications. Even tough it's so small, the COMPACT already has an analogue setpoint output for drives and a digital output. The COMPACT is connected via USB to a commercially available PC or laptop, making operation as convenient as usual. With the UMS COMPACT, you achieve balancing qualities of G = 0.1 mm/s and better at balancing speeds of up to 96,000 rpm.
Unbalance measuring systems UMS
Balancing machines from universal to specialized,
from manual to automated

Would you like to learn more about our products, would you like a personal consultation or do you already have a specific application? Send us an e-mail or use our contact form. We will contact you as soon as possible!